It was 2 am on Sunday the 24th of January.
I was shirring the bodice of a dress for my little girl for the 3rd time. I am thinking, "One day, I'm going to tell her what I went through to make her this dress and she will not believe me".
So, a bit of documentation is in order.
A bit of background:
Having never made a dress before, I decided it would be cheaper to make her a dress from my stash of fabric than pay $50 for one from the local kids' clothing stores.
It's easy, right?
A search on the internet revealed that I could make a shirred dress without using a pattern.
She picked a pretty pink checked fabric. Cool, I have sewing guide-lines.
Back to the shirring:
Instructions on the sites I visited said not to wind the elastic tight on the bobbin. So I didn't.
My thread tension was too tight the first time, I couldn't pull at the elastic to gather the fabric (I thought you did that). I had sewn 7 rows, and ended up having to unpick the lot.
I loosened the thread tension the second time round. I could pull the elastic to gather the fabric, but it was an unsightly mess.
I contemplated binning the idea of a shirred dress.
YouTube came to the rescue. Type in "how to shirr fabric" and then it clicked.
"Oh, wind the elastic tight on the bobbin. Oh, the fabric is supposed to gather as you sew."
It was past midnight by then. But I knew that if I went to bed, I'd be tossing and turning, itching to finish the dress.
So, after unpicking the botched rows, I sewed 8 rows of shirring and then the straps.
I wanted to wake someone and say "YAY!", but I was nice and didn't.
It was after 3 am by the time I got into bed, but my brain was so chuffed that sleep was elusive for a time.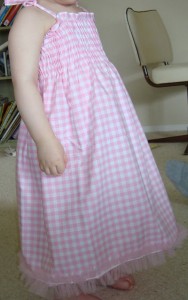 I deduced that I will definitely make a shirred item of clothing again.
Check out my related posts:
Subscribe

Categories

History

Blogs I Read