Archives for "Felt"
So… Miss S decided that she can't eat blueberry pancakes almost every weekend and not have a set of felt ones to play with. So, I sewed some up yesterday afternoon.
One of their bloggers (Joanne C) wrote me to say they would like to use one of my felt food pictures on epi-log. Isn't that cool?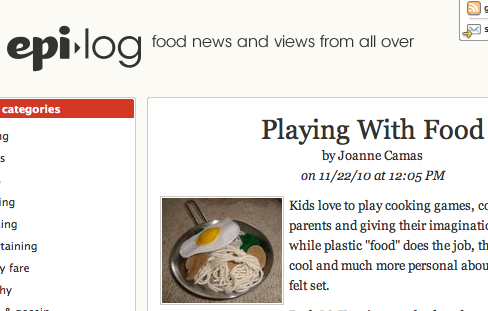 Here's the link, if you want to have a look.
I've wanted to make felt dumplings for a little while. We (well, Miss S and I) eat quite a few dumplings in our household. And I thought they would be pretty simple to make – since I knew how to make the real thing, the felt ones should be easy, right?
Hmmm… not really. Felt ones take way longer than real ones, and you can't eat them after all that work you've put in!
My daughter's felt larder has increased in the form of donuts, sausages, lettuce leaves, and some disastrous looking cupcakes/muffins.
The donuts were really fun to make.
With all her new cooking gear and felt food, my little "chef" has taken over the living room floor.
Can a frying pan box become part of the play process as well as a storage solution?
YES!
I've finally started the mission of making felt food for my little girl. I had to as we received this wonderful package from my parents that contained these little stainless steel cooking pots and pans and a set of utensils to go with them. (These are from Ikea's Duktig range for kids 4 Piece cooking set + kitchen utensil set).
I've looked at getting her some plastic play food, but they were either too expensive or not durable enough. Then I looked at the wooden options. They were really cool, but they were too expensive as well.
Subscribe

Categories

History

Blogs I Read